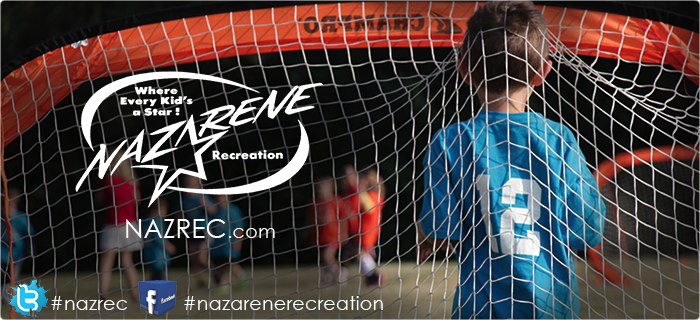 Announcements & News
Make sure you sign up for Late Fall Sports!
Rec Families,
Our Late Fall sign-ups are currently going on. We are still within the Regular Registration period. Make sure you sign up before Late Registration begins on the 12th of October so that if you have any teams/coach requests we can grant those. No player, team or coach requests will be granted after Lat Registration begin.
Also, we are always looking for volunteer coaches. Should you want to volunteer to coach your child's team or any team, please let us know via email.
Finally, please make sure you are familiarizing yourself with our updated sports procedures list. This has been amended and modified to reflect what we will be doing for indoor sports during Late Fall.
Thank you for your continued understanding, patience and cooperation during this season of life. Should you need anything, please email me ( ajbussey@c1naz.org )
Forever in your corner,
AJ Bussey
Recreation Pastor
Nazarene Recreation
Nazarene United Soccer Club (NUSC):
Please refer to your team coach regarding your schedule.
Welcome to Naz Rec!
Nazarene Recreation has been serving the Southwest Suburbs for over 40 years. Originally
started before any other sports programs in the area, Naz Rec continues to be a leader in youth
sports today.
Naz Rec offers programming for kids of all ages, specializing in sports leagues and
classes for 3-14 year olds. If you want to play sports in a family-friendly, supportive environment
where the focus is on developing your player, not just on winning, then Naz Rec is the place to
be!
Our sports leagues, classes, and camps are all designed to expand your child's natural gifts and talents. Naz Rec is a resource that you, as a parent, can use to challenge your children in new and exciting ways. We are here to serve you!
We exist to partner with parents
to raise up
fully
developed children!
Competitive Travel Soccer Team Tryouts
Looking to play competitive travel soccer? Want to be apart of a family-friendly environment that's more focused on your player than on winning at all costs? Look no further! Nazarene United Soccer Club (NUSC) is accepting new players. NUSC is apart of Naz Rec, so you know you will get the same great family-friendly environment and focus as apart of your experience. Tryouts will be held on Tuesdays and Thursdays as a part of the regularly scheduled practice for the club. For more information, click here to see the club webpage, or contact the NUSC Director at dsilvercpa@gmail.com