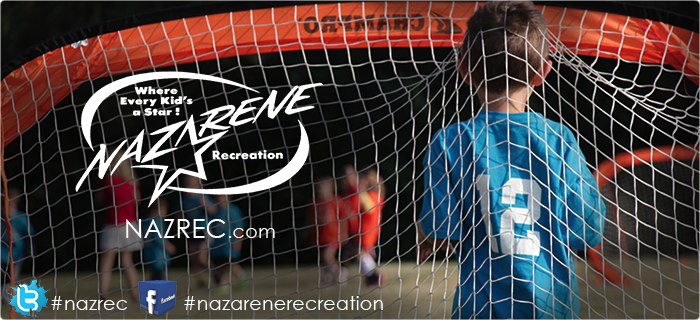 Announcements & News
Naz Rec is BACK!!!
Rec Families,
WE'RE BACK!!!
With our area now under less strict mitigations, we are pleased to announce that Nazarene Recreation will be opening up for a limited Winter/Spring session that will go from end of February to the beginning of May. A three week registration period will be from Tuesday, February 2nd through Tuesday, February 23rd. This will only be a period of Regular Registration. No Early Bird or Late Registration will be offered this period. Spots are limited and when registration ends, we will not be accepting any other participants so that we can be sure to stay within our state and local guidelines during all times of competition. Our Indoor Sports Procedures will be updated to reflect our current local and state guidelines. They will be posted by this Friday, February 5th. Also, our COVID Waivers will still be required for every player. This waiver is required to be brought in on the first night of leagues. Without said waiver, participants will not be allowed to play. Parents can sign each of their kids' names on the same waiver.
Additionally, Summer Camp registration is opening up
Wednesday, February 3rd
. Similar to last year, there are limited spots available. Should restrictions lift between now and the start of camps, then more spots will be made available. There is a
"Special Considerations/Requests"
box on the registration form, please be sure to make all requests for grouping, health concerns, etc. made known in that specific box. For camp, we will once again be doing a
Drive-Thru Packet Pick-Up
in place of a Parent Meeting. This will take place
Saturday, May 15th from 12pm-2pm and 3pm-6pm
. All pertinent information will be handed out during those times.
We are looking forward to the positives that this year has to offer. Thank you all for riding this wave with us!
Should you need anything, please email me (
ajbussey@c1naz.org
)
Forever in your corner,
AJ Bussey
Recreation Pastor
Nazarene Recreation
Nazarene United Soccer Club (NUSC):
Please refer to your team coach regarding your schedule.
Welcome to Naz Rec!
Nazarene Recreation has been serving the Southwest Suburbs for over 40 years. Originally
started before any other sports programs in the area, Naz Rec continues to be a leader in youth
sports today.
Naz Rec offers programming for kids of all ages, specializing in sports leagues and
classes for 3-14 year olds. If you want to play sports in a family-friendly, supportive environment
where the focus is on developing your player, not just on winning, then Naz Rec is the place to
be!
Our sports leagues, classes, and camps are all designed to expand your child's natural gifts and talents. Naz Rec is a resource that you, as a parent, can use to challenge your children in new and exciting ways. We are here to serve you!
We exist to partner with parents
to raise up
fully
developed children!
Competitive Travel Soccer Team Tryouts
Looking to play competitive travel soccer? Want to be apart of a family-friendly environment that's more focused on your player than on winning at all costs? Look no further! Nazarene United Soccer Club (NUSC) is accepting new players. NUSC is apart of Naz Rec, so you know you will get the same great family-friendly environment and focus as apart of your experience. Tryouts will be held on Tuesdays and Thursdays as a part of the regularly scheduled practice for the club. For more information, click here to see the club webpage, or contact the NUSC Director at dsilvercpa@gmail.com